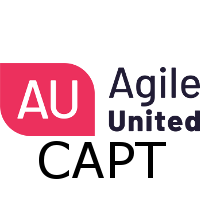 De training Certified Automation Practitioner in Agile Testing (AU-CAPT) is ontwikkeld voor agile teamleden, en specifiek testers, die hun kennis en kunde willen verbeteren op het vlak van testautomatisering.
Deze praktische en interactieve training helpt jou en jouw team om kwalitatief betere software op te leveren door je de fijne knepen van testautomatisering bij te brengen. We gaan hierbij vooral in op de concepten van testautomatisering en hoe je deze kan toepassen in jouw organisatie om ook daadwerkelijk waarde te creeeren middels testautomatisering.
Wil je jouw Agile-testcarrière een boost wilt geven of hiaten in jouw kennis en vaardigheden opvullen? Dan is deze cursus iets voor jou.
Programma
De volgende onderwerpen zullen aan bod komen tijdens de training (in het engels omdat het trainingsmateriaal in het engels zal zijn):
Expectations of test automation

Understanding the basics of test automation
Value of automation

The value of test automation within organizations

Creating value
The Six Thinking Hats of de Bono
Toulmin's reasoning diagram

Test types

Agile Testing Quadrants
The Test Pyramid

Test automation frameworks

Linear framework
Modular framework
Data-driven framework
Keyword-driven framework
Model-based testing framework
Code-driven testing framework
Hybrid framework

Test development approach

Behavior Driven Development (BDD) testing framework
Test Driven Development (TDD) framework

Complementary tools and components

Assertions and assertion libraries
Stubs and drivers
User interface testing
Performance testing
Security testing

Test automation approach and strategy

Get team involvement
Thinking about ownership and responsibility
Thinking about the development processes
Define a strategy

Tool selection

Factors on choosing a tool
Selecting the right test tool(s)
Run a spike

Decide on what to automate
Best practices

Follow test design patterns
Don't repeat yourself (DRY)
Use Domain-specific language (DSL)
Maintain standards

How to embed test automation

Embed test automation within Scrum
Make a maintenance plan
Use Continuous Integration
Measure code coverage
Share successes
​Praktische informatie
Voorkennis
Hoewel er geen verplichte vereisten zijn, krijg je veel meer uit de cursus als je al test-kennis en -ervaring hebt (b.v. AU-CPAT) - aangezien deze cursus de basisprincipes en terminologie van testen niet behandelt. Ook is kennis en in ieder geval eerste ervaringen met werken in een agile omgeving aan te bevelen.
Kosten
3-daagse Practitioner €1589 p.p. inclusief (online) examen (Let op: examen is in het Engels!).
De on-site training is inclusief koffie, thee, water en lunch.
Prijzen zijn exclusief BTW.
Voor inhouse trainingen: neem contact met ons op voor een aanbod op maat.
Cursusdata
8/9/10 mei 2023 09:00-16:00 Zuid NL of Noord BE
4/5/6 september 2023 09:00-16:00 Centraal in NL
11/12/13 december 2023 09:00-16:00 Centraal in NL
Wil je meer informatie of je inschrijven? Vul het onderstaande formulier in en wij nemen contact met jou op.
Kijk voor meer informatie ook op: https://www.agile-united.com/au-courses
Jullie trainers
Het album kan niet worden gevonden.
Naar het overzicht